Between the winter and spring season, the rains bring new life into the desert. Plants of various kinds rise out of the sand, contrasting the brilliant red color of the landscape with a sharp green. This is the time when the Bedouin people guide their herds of sheep and goats into the land to graze, resulting in lambs and baby goats, soon thereafter. It is at this time, that the mother goats and sheep produce the sweetest milk, due to their lush, nutrient filled diet. This milk is then made into various butters and cheeses, a process that goes back hundreds of years and one that we are very eager to share.
Have you ever wondered what it is truly like to live as the Bedouin people have for over 300 years? At Wadi Rum Nature Tours, we offer our guests to spend the day living like a Bedouin. Children and adults alike love to join our family, who to this day still lives in the traditional way deep in the heart of the Wadi Rum.
Our class begins in the late morning, where we will first introduce you to the family, getting to know each other over our famous Bedouin tea. It is also during this time that you will learn about the rich history of the Bedouin people, from our early history as nomadic herders, farmers, fisherman, and caravan traders, to our present day role in the Kingdom of Jordan.
After this we begin the discussion on our livestock and how we use them for making our various dairy products. Guests can meet and interact with our goats and sheep, and if the season is right partake in the milking. The art of the cheesemaking itself has been passed down through the women in my family for generations. For this reason, it is most fitting that my mother will be the one showing you the steps involved in the process of making the cheese.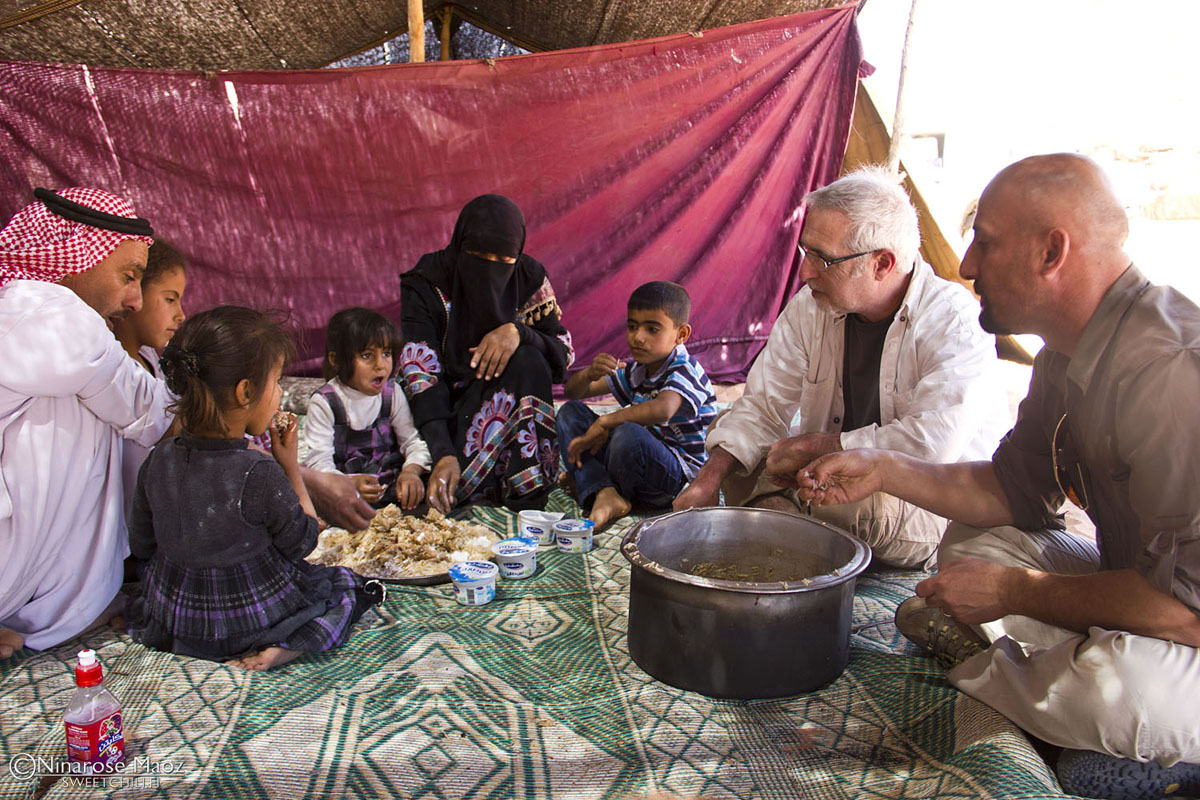 The desert plays a key role in just how we make the cheese, and guests are always surprised that maybe the way they've understood cheese to be made in Europe or America is very different to how our culture has adapted to make our cheese, and make it last. After the cheese making is completed we will enjoy a traditional Bedouin lunch, preparing for you either Zarb, a barbeque cooked under ground, Magloubah, a rice dish made upside down, or Mansaf, the national dish of Jordan, all of which have a very rich history in our culture. Of course we will also have a tasting of all the cheeses.
The best time of year to experience our Bedouin Lifestyle Class is between January-May, although we've formulated our course to be possible during all parts of the year. Contact us for more information regarding this experience. We offer group discounts and a reduced rate for children.